Maths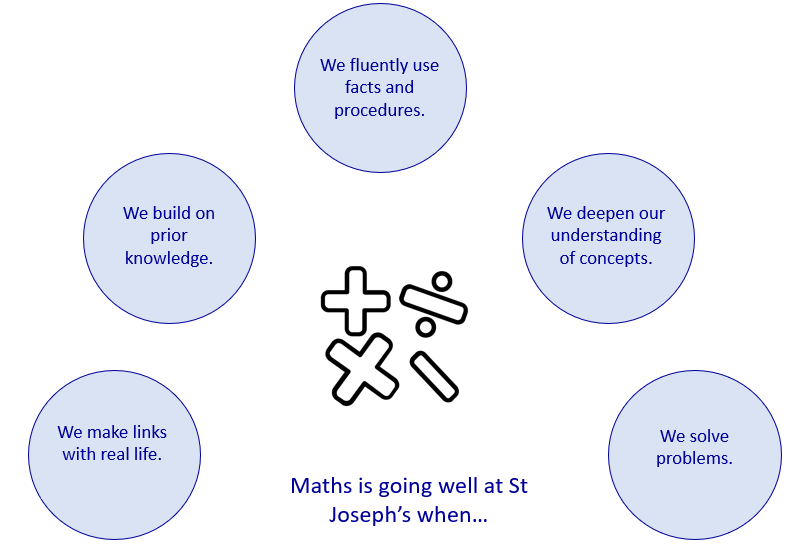 How we teach mathematics at St. Joseph's
Children make sense of the world around them through developing their ability to calculate, reason and solve problems. At St. Joseph's we endeavour that your child will experience the maths curriculum through creative teaching which is put into a context which is meaningful to them.
A high-quality mathematics education provides the foundation for your child's understanding the world, the ability to reason mathematically and gives them a sense of excitement and curiosity about the subject. We use the White Rose Hub scheme of work across the school. Please see for more details or the Parents' Information presentation below.
Our ethos for teaching mathematics at St. Joseph's
The National Curriculum for mathematics aims to ensure that all pupils:
Must become fluent in the fundamentals of mathematics, including the varied and regular practice of increasingly complex problems over time.
Reason mathematically by following a line of enquiry, understanding relationships and generalisations, and developing an argument, justification or proof using mathematical language.
Can solve problems by applying their mathematics to a variety of problems with increasing sophistication, including breaking down problems into a series of simpler steps and persevering in seeking solutions.
Mastery of Mathematics
At St. Joseph's, we teach pupils to master the skill of mathematics. Mastery means having a secure understanding of mathematical concepts and processes, combined with fluency. A child who has mastered a particular skill is able to apply their understanding and solve different types of problems, including where the skill is either embedded in a different context, or where a choice of method has to be made.
Some children will be able to achieve mastery at a higher level. This means that they are able to apply their understanding of a concept in a wider variety of contexts, some of which are more difficult.
Numicon Interventions
Numicon is a multi-sensory approach that boosts progress and raises attainment in mathematics. With problem-solving, reasoning and conversation at its heart, the intervention supports the National Curriculum for mathematics.
Numicon:
helps children to reason mathematically through the use of concrete apparatus and conversation to explain and justify answers

supports children into becoming confident problem solvers
develops fluency by using a visual, practical base to develop conceptual understanding and fluent recall.
In all our classrooms at St. Joseph's we have skilled and experienced teaching assistants who support children with their learning. Children who have gaps in their knowledge are supported through our intervention groups.
Mathletics
Mathletics is an online programme that helps children to access maths interactively and to improve progress. Every child at St. Joseph's from Year 1 -6 will have received a login card so they can access Mathletics at home for their mathematics homework and to play games at home. Teachers every week will set homework based on the week's learning to consolidate and extend their knowledge and help their confidence. Children gain points from completing activities from which they can earn firstly Bronze, Silver then Gold Award certificates.
Multiplication – Times Tables Practice
It is our expectation at St. Joseph's that our children have a secure grasp of the multiplication tables. They are a very important aspect of maths which underpins the learning of long multiplication, division, fractions and later on algebra. Children with a good understanding of timetables are confident at applying their knowledge across all areas of maths.
We ask our parents for support in helping their children to learn the multiplication tables.